If you're in a relationship with a celebrity, you likely don't see each other very often on account of tour schedules, interviews, appearances, and everything in between. In the case that both partners are famous, you'd imagine that finding time to be together would be nearly impossible– that is unless you make it a priority.
Garth Brooks and Trisha Yearwood are arguably one of the best power couples in country music. They both have several endeavors of their own that keep them as busy as ever, but that doesn't stop them from spending time together.
In an interview with E! News, Garth shared that he and Trisha made a promise to each other that, despite their busy schedules, they'd always do their best to be together. "We've both been married before, so we made a promise to each other to be together instead of apart," he said. "We always tour together, we always do everything together. I bet you this year so far we've probably spent two nights apart– that's how I like it."
Only two nights apart is an incredible feat all things considered– but it might make some sense as to why their marriage works. Also, please admire how Garth's eyes light up when asked about Trisha as he looks over at her.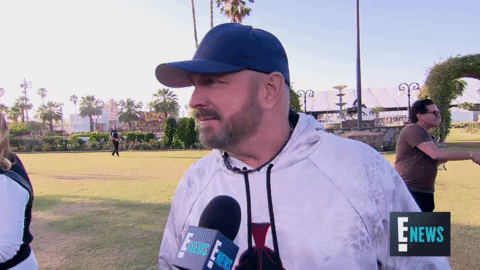 Ladies, find you someone who loves you the way Garth loves Trisha.