The small town of Victorville, California has declared a minor state of emergency after their town was overrun by tumbleweeds. And by overrun, I don't mean a few extra tumbleweeds are rolling around– folks are having a hard time getting out of their houses because of the dead plants. And they can't seem to get rid of them.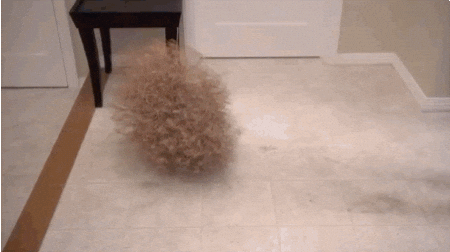 Victorville, sitting northeast of Los Angeles, collected the tumbleweeds after high winds tossed them across the desert plains. Local teens suggest the tumbleweeds were attracted to the town because it's so boring. They're right. Nothing happens there.
The high winds in Southern California led to a #Tumbleweed takeover Victorville (📽️: James Quigg/@VVDailyPress) pic.twitter.com/YUAkqlEm33

— Nick Dobis (@NickDobis) April 17, 2018
Hats off (well, they blew off) to our Parks Crew for helping unbury a resident's home today that was buried by tumbleweeds. Crews were busy cleaning up downed tree limbs and tumbleweeds that were blown about by the wind storm. pic.twitter.com/TENUbT6Wmj

— City of West Jordan (@CityWestJordan) April 17, 2018
Victorville neighborhood overrun by tumbleweeds! @CBSLA pic.twitter.com/pFzxZIIIQ4

— Tina Patel (@tina_patel) April 17, 2018
Imagine being helpless against tumbleweeds. That's tough. Our thoughts go out to these Californians afflicted by dead plant balls.
This picture courtesy of @cityofvv. Strong winds have caused tumbleweeds to pile up on Mesa Street in Victorville! Strong winds (at times gusting in excess of 50 mph) will continue in the high deserts through the evening hours. #CAwx pic.twitter.com/Hgs11t1Wfy

— NWS San Diego (@NWSSanDiego) April 17, 2018