John Cena and Dwayne "The Rock" Johnson were once wrestling rivals who, according to Johnson, "had real problems" with one another. Today, they claim to be friends. I say "claim" because Johnson stepped back into rivalry-mode, threatening Cena if he ever got out of line.
"We're best friends, we talk all the time," Johnson said to Jimmy Kimmel before things took a turn. "When you see him say, listen DJ always wants to remind him if he ever acts up I will knock his teeth so far down his throat that he'll have to stick a toothbrush up his ass to brush them."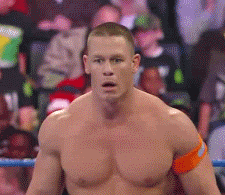 The next night, Cena sat down next to Kimmel, who delivered The Rock's message verbatim. His response was so epic that I cannot even type it. All I'll say is that Cena compared his butt to a "Mississippi cornfield in a downpour" that's "full of mud and vegetation."
Yep.
I don't even know where to go with that.